JLPT Bootcamp
Intensive weekend In Edinburgh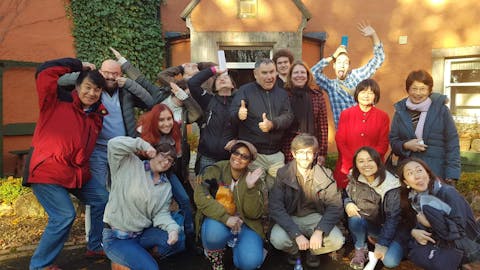 Learn JLPT strategies and techniques, get test practice, and have your mock tests reviewed by our experienced native teachers.
Would you like to discover...
Strategies to save you time during the Japanese Language Proficiency Test?
How to choose the correct answers in the kanji section?
How to quickly find the answers in the reading section?
How to avoid easy mistakes that might cost you precious points?
What to expect on the day of the test?
How ready for the JLPT you really are?
Your strengths and weaknesses from an experienced JLPT teacher?
If YES, here are the JLPT Bootcamp details...
Online
Experienced and qualified native teachers who have taught multiple successful JLPT students.
Small group lessons (4 people maximum).
Marked & reviewed JLPT Mock Test.
Basic, Plus and VIP experiences available.
5 hours minimum of formal JLPT Prep Lessons with example exercises.
Bonus Content!
JLPT Textbook sent to you.
Facebook group to share your JLPT questions with teachers in our community.
Invitation to join our online Japanese Conversation Club at a discount rate.
Special goodybag if you sign up 45 days or more before your chosen bootcamp.
Prices
Basic: £175

Plus: £225

Two extra hours of lessons
Lunchtime Conversation Classes

VIP: £315

Two extra hours of lessons
Lunchtime Conversation Classes
Three 1:1 lessons
FAQs
What happens if I pay then discover that my preferred bootcamp is fully booked?
How old are participants?
Is the mock test the full test?
Can I pay for basic and upgrade to Plus or VIP later on?
Can I pay for Plus or VIP now and downgrade to Basic later on?
Can I change the date of my bootcamp?
Will there be a goody-bag this year?
My daughter is 17, can she attend?